Country Appeal
Most kitchens with a country theme make use of simple red oak. However, this homeowner wanted something more dramatic. By selecting rustic maple and using wide-frame cabinet doors, a degree of sturdiness and visual interest was achieved. An underused adjacent area of the home was integrated into the kitchen to create a larger unified space.
Because of the large size of the combined space, two islands were employed. One was topped with granite and houses the sink - thus creating a prep space. The second was topped with a planked-maple counter and serves as a seating island.
Features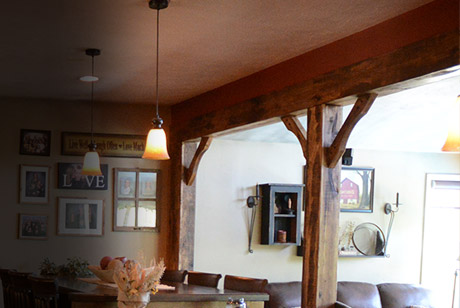 Drywall-wrapped posts between the kitchen and family room had continual cracking problems due to seasonal movement of the underlying structure. To remedy this, and to create dramatic visual appeal, the posts and header were wrapped with rough-hewn hickory, distressed and finished with stained wax. The resulting look is as though the posts and beams are truly structural as would be encountered in a vintage barn or building.
Location: Belle Vernon, PA
Cabinet Details: Full overlay, Inset flat panel with wide-frame doors
Wood Species: Rustic maple
Finish: Weathered amber stain with satin lacquer top coat
Countertops: Titanium granite with beveled edge

See more of our work >